Hello everyone!
My name is Vicki Savini, and my purpose in this life, is to assist everyone I meet to not only see, but more importantly, honor the light within!
I have been empowering children & adults through individual consultations and group workshops for over a decade.  My credentials include degrees in Child Psychology and Education, as well as, healing arts and wellness consultation experience.   I am a licensed Science of Mind Practitioner, Reiki energy worker, Life Coach, and talented intuitive guide.  More importantly, I am a mom, a wife, a daughter, an aunt, a friend.
All this aside…I am here to serve you by using my real world experiences and eclectic training's to educate, enlighten, and empower you to see that beautiful light within.  If you are interested in guidance for yourself, please go to: www.theinfinityfoundation.wordpress.com or www.theinfinityfoundation.com You can also find us on Facebook by typing in The Infinity Foundation.  The purpose of this blog is to help you to guide children to honor their light within.
Now that we have all of that stuff out of the way…let's get to the good stuff! 🙂
Several years ago, my sister told me that I have an unbelievable gift to see the world through the eyes of a child.  When I asked her what she meant by that, she said, "You always have a way of understanding exactly how a child feels and what a child needs, and that's a gift!" I now look back on that and feel truly blessed because I know that I got that gift from my beloved dad, and I'm proud to carry on his legacy in my life's work!
A little over a year ago, I wrote and published a children's book titled, "The Light Inside of Me."   www.thelightinsideofme.com  I had the thought of writing this book and the words posted behind my desk at school for 3 years, but had done nothing to move forward (likely due to fear).  Then, in November of 2009, I heard Dr. Wayne Dyer speak at a Hay House 'I Can Do It' conference, and something he said really stuck with me…"Don't die with your music left in you."  A few days after leaving the conference my entire life was turned upside down, as I learned on Thanksgiving Day that my dad had a rare and aggressive form of cancer.  In the next few days, I sang to my dad, whispered affirmations in his ear, and kept reciting Dr. Dyer's words while he laid there in an unconscious state.
When my dad gently slipped away on Sunday morning, November 29, 2009, it suddenly occurred to me that I should be listening to Dr. Dyer's words of wisdom.  Shortly after, I got to work on bringing this children's book into the world and realized that it is in darkness, that we can truly see our lights!
"The Light Inside of Me," teaches children that their inner voice is the most important voice they can listen to… "Deep inside me is a light, that burns and glows and shines so bright.  To make my light shine bright, I make good choices and do what's right!"  The message in the book shows children that we all make mistakes and that when our light is dim, it's time for us to look within.  I read this book to my 1st graders several times in the year.  I have also presented it to all of the students in our K-5 school as part of our Character Education Program.  It's really a simple concept…
When you make a choice and it feels good in your heart, you are shining brightly, and it's generally a good choice.  When you make a choice and it feels bad, your light is dim.  Kids 'get it'.  I have children walk up to me daily and say, "Mrs. Savini, my light is shining bright today!"  I also am able to simply ask my students, as well as, my own son, "Is your light bright right now?"
We know when our kids are shining brightly, and we know when they are dim.  Sometimes, their lights get dim because of choices they make.  Sometimes, it's because someone else has dimmed their lights.  The most important lesson we can teach our children is to honor their feelings.  If something feels bad in their heart, don't do it.  If something feels good in their heart, go for it!
The truth is, we ALL have a light inside of us.  We are all connected as ONE energy, and when we dim the light of another, we dim the light within.  When we ignite a light, we ignite our own light.  Teach your child one simple lesson today…to honor their feelings.  Afterall, didn't someone famous once say, "To Thine Own Self Be True?"
In Love & Light,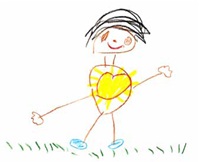 Vicki
a.k.a. Mrs Savini 🙂