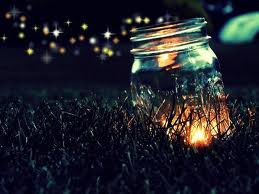 A few days ago I read a children's book titled, 'Fireflies,' by Julie Brinkloe, to a group of girls for my GIRLS RULE Camp.  This book is a story of a child who feels the excitement of catching fireflies in mid-summer in a glass jar.  I love this story because when I was little that very event created many happy memories that I cherish, with my dad.
In this story, the child is called to come inside and brings the fireflies in his room, thinking the fireflies would be okay because he poked holes in the top of the jar.  When he first sets the jar down, he admires the bright glowing lights of the fireflies, and he says, "My Fireflies."  In a few moments, he notices that the light in the jar is getting dimmer and dimmer.  He starts to realize that for the lights to brighten, he must let them go, but he doesn't want to let go of his fireflies.
When the light gets very dim, with tears rolling down his cheeks, he opens the jar and points the jar toward the window.  He says, "Fly!"  Suddenly, the lights brighten and the fireflies explode out into the summer night air!
I've always loved this book because it reminds me of my dad, who is no longer here with me on earth, but last week it took on a new meaning…
Sometimes, we allow other people or situations to dim our light.  We allow ourselves to conform to what others want or what appears to be acceptable in society.  The problem is, we are not being TRUE to ourselves.  We slowly become dimmer and dimmer, and something inside of us dies.  Perhaps it's passion, imagination, desire, or inspiration.  Nonetheless, it dies.
We can free ourselves by being true to ourselves and honoring our feelings.  Most importantly, we can empower ourselves and brighten our own light by never giving our power away.  We give our power away when we seek approval from others and when we hold back our truth because we are afraid of not fitting in…not fitting in with others, or perhaps with what society deems 'right'.
If you've given your power away to another person, a co-worker, a boss or even a job, take it back! Take your power back by doing what feels right.  Stop hoping that others are going to change and that you will wake up from this horrible dream.  Take your power back and make your dreams become your reality, whatever dreams you may have.
You deserve it.  You are AMAZING.  You are a BRIGHT LIGHT just waiting to bust out and FLY!  Go for it…the jar is open.
Lots of Love & TONS OF LIGHT!
Vicki